The best activities to do in the Landes
A camping holiday in Mimizan, on the silver coast, in the Landes, is a journey into a wild and preserved nature, between ocean, pine forests and lakes.
The forest of the Landes of Gascony is a forest in southwestern France located in New Aquitaine region, with an area of nearly one million hectares. It offers an infinite possibility of walks and activities in the middle of nature.
This forest massif is bathed to the west by the Atlantic Ocean. The coastline is called Côte d'Argent, known for its thousands of km of beaches and dunes, where discoveries and water sports are not lacking!
Finally, the Landes is home to many lakes, where you can discover wild and often protected fauna and flora, or enjoy the many activities of body of water.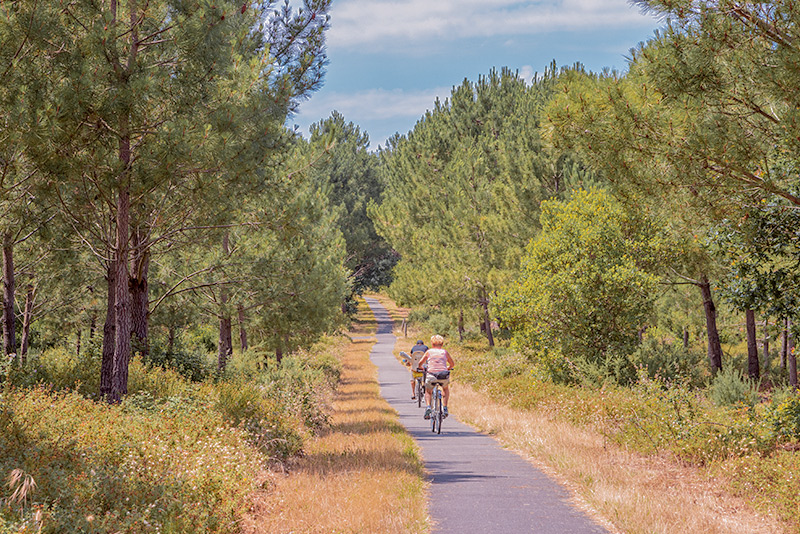 All sports activities to do
Come and get some fresh air, close your eyes, breathe… welcome to the Landes forest!
Live at the top of your lungs
On foot, on horseback, by bike, on land or in the air, there is no shortage of opportunities to live at the top of your lungs!
Tree climbing, horseback riding, golf, parachute baptism, tennis: consult us, we will be able to offer you the activities that suit you!
Mimizan and its lake are a paradise for fishing lovers.
Drive through woods and clearings
Mimizan is a stage of the Vélodyssée , which stretches from the north of Brittany in Roscoff, to the south of the Basque country in Hendaye.
Cycle paths crisscross the Region and the routes are accessible to all.
Contact us to rent your bikes!
At Mimizan Plage, you will also find a skatepark, popular with riders, on your way back from the beach.
Water activities to do in the Landes
With its 10 km of beaches, the Côte d'Argent is one of the most famous seaside resorts on the Landes coast.
Mimizan, the ocean, the lake, the rivers, it is the paradise of skiing and water activities. Surfing, kayaking, stand up paddle, canoe, hobie cat, kite surfing, not to mention rowing, sand yachting, what more could you ask for?
You can also witness a sunset in the ocean! Emotion guaranteed!
Activities to do with your children in the Landes
Holidays in Mimizan, child's play!
Initiations to surfing, bodyboarding, windsurfing, stand up paddle, Hawaiian canoe, tennis, golf adapted to everyone, thrills, pony or horse rides, shows reserved for under 12 years, workshops, walks in the forest in search of a treasure, to live with family.
But also, beaches accessible to the little ones, in complete safety: Courant beach or Lake Aureilhan.
Contact us! The team at La Maïade campsite will advise you on the best spots to share with your children.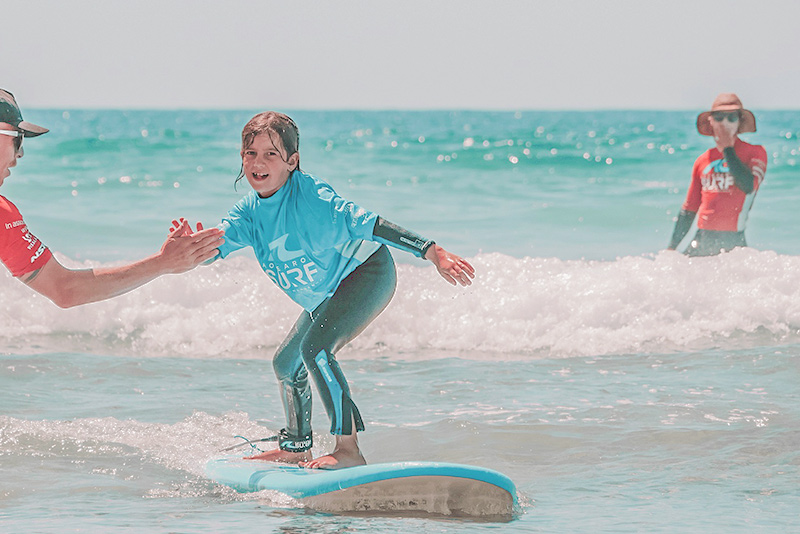 – Discover the activities and rentals of our campsite –